Fundraise for Sierra Buttes Trail Stewardship (SBTS)
And earn your entry fees back!
This year, we are providing a fundraising opportunity as part of our race registration process that enables racers to earn their entry fees back, as well as play a pivotal role in a bigger mission to ensure long-term economic prosperity in the Lost Sierra region. Racers who choose to fundraise will be rallying their networks for donations for Connected Communities, the cornerstone project of the Sierra Buttes Trail Stewardship (the nonprofit that organizes the Downieville Classic and Lost & Found Gravel races). The goal? Raise at least double your entry fees, and you'll get your fees back (minus a BikeReg surcharge).
To be reimbursed for their paid entry fees, all juniors fundraise $220 in donations while all adults fundraise $445 in donations. This one time payment will happen within two weeks following the race on Saturday, June 3. But don't stop there! Raise as much as you can to further contribute to our cause and to get in the running for a top donor prize and an exclusive invite to the pre-race Thursday Night Party.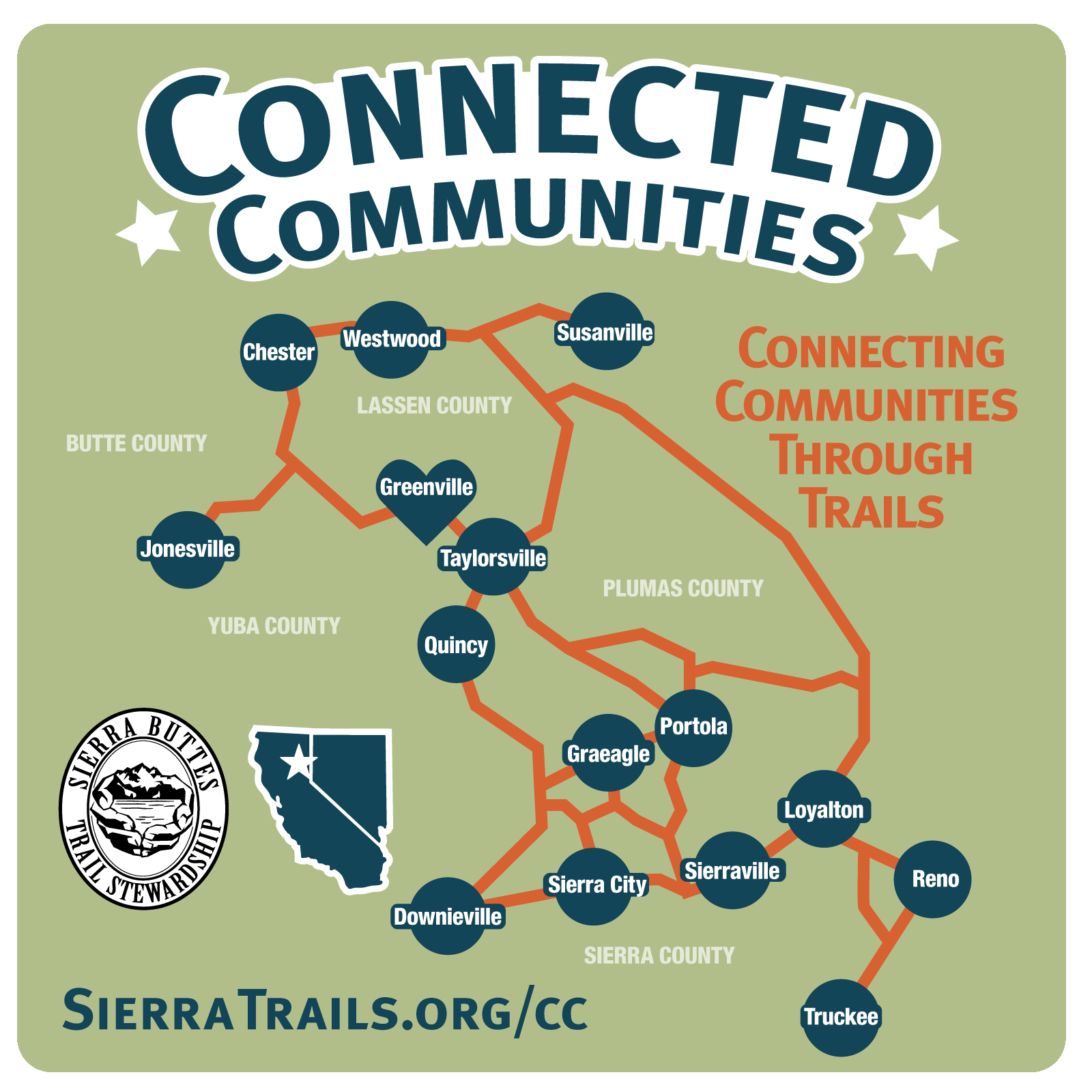 Connected Communities is a multifaceted project designed to spur economic development in the Lost Sierra region. The most exciting component of the project is the proposed 600 miles of new and existing singletrack trail that would establish a network connecting communities across the region. The long term goal is to create a multi-user signature route—dubbed the Lost Sierra Route—that would highlight these communities and stimulate local economies. The dollars raised by Lost & Found racers this year will go directly toward progress on the next two phases of the Connected Communities Project: environmental review and construction.
The Goal
Your fundraising efforts will help this region recover from years of devastating wildfires and economic hardship following the decline of the timber and extraction industries. This film helps explain the impact of the Lost Sierra Route on these mountain towns.
Together, through trails, we can bring local jobs, tourism dollars, and ultimately stability to an area that already gives all of us so much.
How to Get Started
Upon registration, each Downieville Classic participant will have a fundraising web page, on the Pledge Reg Lost & Found Gravel Festival page, that can accept donations, send emails automatically (but not spammy) to friends and family for support and respond with thank you emails. Everything is in templates, and all you need to do is add a personal touch. You can also raise money through Facebook and create fundraising teams (fun team names are encouraged!). The top fundraising team will also be awarded prizes as well.
Steps to Get Started
Set a goal and aim high.
Personalize your fundraising messages by sharing the story of why you ride or volunteer at the Downieville Classic.
Make a self-donation to kickstart your fundraising campaign and show your supporters that you're leading the way.
Use social media to share your fun and creative stories of training rides, preparations, volunteering at our events/on the trail, videos and photos along the way and ask for fundraising support as you share your journey.

Prizes for Top Fundraisers
On Saturday at the Lost and Found awards ceremony following the adventurous ride, join us to celebrate coming together to support and uplift the Lost Sierra together at our post race festival of food, beverages and live music!
We'll have prizes for the top three individuals and the top fundraising team recognized with a shout-out on the winner's podium.
These are the prizes from the 2022 Lost and Found fundraising campaign that top donors received, and the 2023 prizes will be equally juicy.
Top Individual Fundraiser - Full Shimano GRX group including drivetrain, brakes and cranks
Second Best Individual Fundraiser - WTB CZR Carbon Wheelset
Third Best Individual Fundraiser - Kuat Bike Rack
Fundraising Tools
A full suite of images, text, and how-to resources to make fundraising easy for you.
Frequently Asked Questions
How to's to keep you informed.